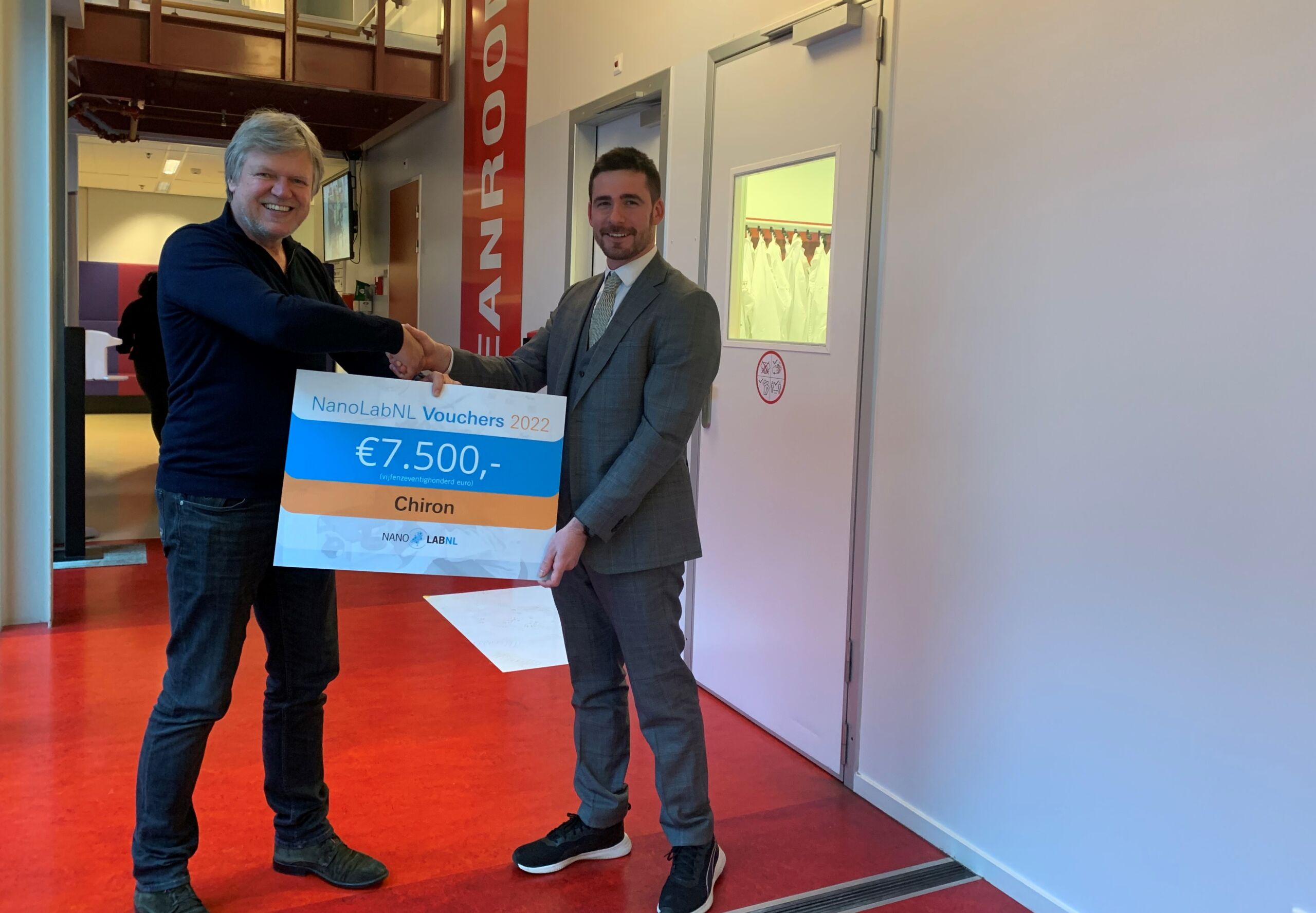 On Friday, 20 January 2023, Guus Rijnders handed over a NanoLabNL voucher to Carlo Alberto Paggi, co-founder of chiron. chiron can exchange this voucher for hours spent in one of the Cleanrooms for training, guidance and/or the use of equipment.  
Organ-on-chips to find animal-free solution for arthritic diseases
Carlo Alberto submitted the request for a voucher for the research 'Developing humanized organ-on-chip to tackle arthritis'. "The reason to apply for this voucher is due to the production of the systems. Our organ-on-chip models are miniaturized physiological microfluidic devices. Hence, the resolution needed to make some of our designs require using a cleanroom facility to fabricate the moulds we use for our technologies. In particular, we use SU-8 (100) to create our moulds using photo-lithography. From that, we move to soft-lithography to make our devices in polydimethylsiloxane (PDMS). The objective of our project is to optimize the design of cartilage and synovial membrane on-chip and increase manufacturing capability. Moreover, we want to develop new technologies to broaden out pipeline. With the voucher of NanoLab, we can work on our objectives and use advanced technologies as well as first-in-class cleanrooms to bring chiron from a start-up to an established company."
About chiron
chiron is an organ-on-chip company spin off from the University of Twente. The company, developed out of the Developmental Bioengineering group, possesses a series of technologies of which one is used to for mechanically stimulating human cells. chiron aims at tackling arthritic diseases such as osteoarthritis and rheumatoid arthritis, which affect more than 1.5 million Dutch people (approx. 10% of the population). Currently, the company presents two innovative technologies used to mimic cartilage and synovial membrane, which are the most critical tissues in the joint in the initiation and progression of diseases. Furthermore, the company aims at developing these technologies further while bringing to the market other tissues (e.g. tendon, meniscus). Currently, the company has two primary sites: Enschede for the manufacturing side; Maastricht for biological. For more information, visit their website.